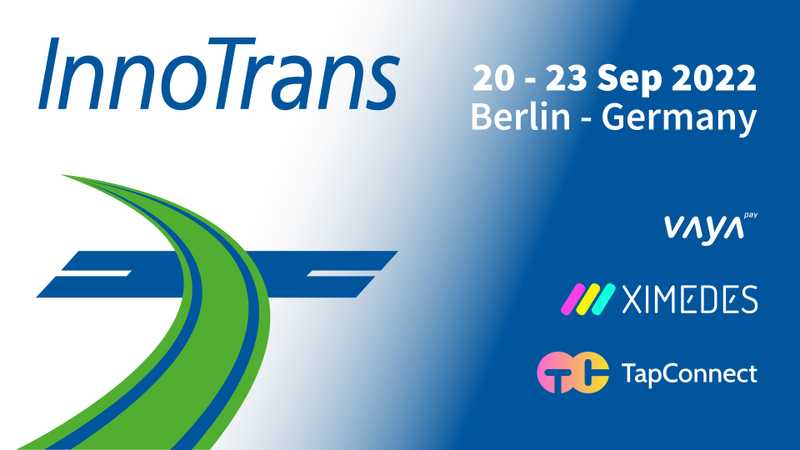 At the upcoming Innotrans (20 – 23 September, Berlin Messe, Germany), Ximedes will be an active participant. Visit us at Stand 210 in Hall 7.1C in the Mobility+ Arena. Ximedes will be exhibiting its expertise, focusing on Pay-as-you-Go eTicketing infrastructure (barcode, QR code) solutions, Contactless EMV ticketing, Mobile sales and Inspection solutions and on the strong need for standardisation (ITxPT/VDV) in the IT Architecture for Public Transport vehicles.
TapConnect: Frictionless Pay-as-you-Go eTicketing Infrastructure
TapConnect (https://tapconnect.io) brings interoperability across operators, and empowers them to manage, optimise and innovate their travel services. By enabling digital ticketing using mobile phones, EMV or printed tickets, passengers travel frictionless from A to Z. The hosted solution (AWS) can be integrated into the existing IT landscape and can be deployed within weeks.
On the stand we will demonstrate how TapConnect empowers Pay-As-you-Go in an interoperable context. With the vertical solution PTOs/PTA's can go live in weeks.
Vayapay: Frictionless Payment for urban mobility
Vayapay (https://vayapay.com)is a Payment Service Provider dedicated to mobility. The Vayapay Smart Payment Platform is designed according to the MTT (Mobile Transit Transaction) rules of Mastercard and VISA. The Vayapay Smart Payment Platform enables your ticketing logic to accept EMV cards, such as payment cards, Apple Pay/Google Pay, and wearables but also close Loop EMV cards, as identifiers to travel: . Tap your bank card at entering the vehicle and start your journey. We support multiple fare models like: Know Far Transaction (KFT), Aggregated and Capped Pay-as-you-Go, and Account Based Ticketing (ABT).
GIVA: Frictionless vehicle integrations
Ximedes has implemented an open (based on ITxPT & VDV301) and fully interoperable IT architecture for connecting all the on-board systems of the Public Transport Operators' vehicles. The outcome is a plug-and-play landscape, offering a solution (GIVA) that enables quick integration of new systems and services. The Central Monitoring Application (CMA) gives a full - real time - insight (locations, status individual systems, etc.) on the whole fleet of vehicles, also offering OTA software updates.
Interested to find out how we can help?
If you, as a PTO/PTA, a MaaS platform provider, a hardware supplier or a vehicle manufacturer, are interested in bringing your business to the next level, why not use our expertise and available components? Use it as a starting point, with proven technology, as an accelerator for your business! Feel free to reach out to us at: info@ximedes.com
Come and visit us at Stand 210 in Hall 7.1C at the Mobility+ Arena
For more information see www.tapconnect.io / www.ximedes.com / www.vayapay.com