Ximedes welcomes you to our Money20/20 stand #C100!
Ximedes will be attending Money20/20 Europe. This market-leading three-day event that brings together the entire payments, FinTech and financial services industry is being held in Amsterdam, our own backyard, this year. At Money20/20, ideas are created, partnerships are formed and future trends are imagined. Over 2000 companies from more than 80 countries will focus on influencing the future trajectory of payments to our benefit.
Money20/20 is packed with over 90 hours of content across 8 spectacular stages, covering 11 of the hottest themes in financial services innovation: Payments, AI, Banking, Retail & Commerce, Identity & Authentication, Risk/Security/Fraud, Data & Analytics, Lending & Credit, Blockchain/Distributed Ledger Technology, Entrepreneurship and Regulation. Expect to see: in-depth case studies from across Europe and beyond of how businesses are implementing new technologies and adapting to changing regulation; challenging panel discussions tackling the biggest questions in FinTech; and inspiring presentations & fireside chats from the biggest names in the industry giving you concrete insights to implement in your business.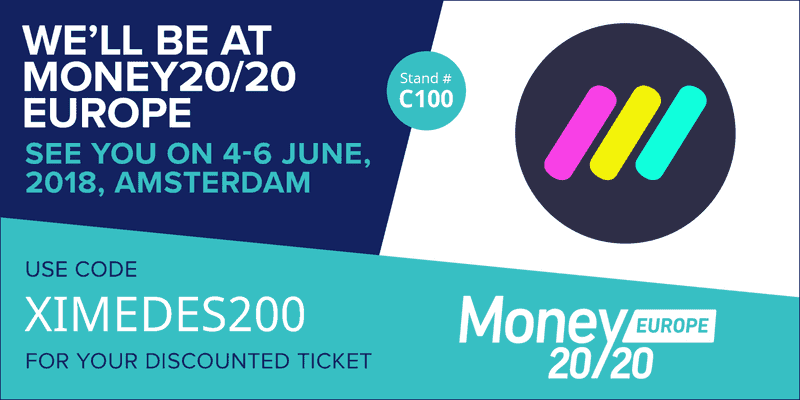 Image: Discount code Money20/20
Special guest Steve "The Woz" Wozniak will also make an appearance together with numerous other inspirational speakers.
As in previous years, Ximedes will have a stand (#C100) on Money20/20 where we meet our clients, partners and other fintech business professionals to showcase how we help incumbent banks in Europe to actually become fintech companies themselves. How we achieve this will be explained by our colleagues in vivid detail when you ask them at our stand.
Meet Ximedes at stand #C100 in Amsterdam on June 4-6th where we present the wonderful world our 'Agile with a Plan' software development and the way we improve seamless onboarding, customer authentication and authorization, merchant payment services and how we overcome a plethora of challenges in the financial industry by leveraging smart and ingenious software development processes with a highly skilled team of professionals.
​