Client onboarding crucial to prevent money laundering
Well respected banks as Danske, Nordea, Swedbank, ING and ABN AMRO are involved in money laundering scandals. Some of these banks concede that they still have problems with the "know-your-customer" practices, that could prevent money laundering. The affected banks are now involved in massive, resource-intensive operations to clean things up, which underscores the fact that a trustworthy, digital, workflow-based process to onboard new clients is well worth the investment. Moreover, an automated onboarding process can greatly improve the User Experience for new clients, if only because the process-duration goes from days to minutes.
EMS and Ximedes' onboarding solution
EMS and Ximedes are working on a project that resulted in a much better merchant onboarding process. We have already achieved great results: the new web based onboarding process takes minutes to complete from the clients' perspective instead of days, there is no paperwork required as the whole process is digital, including the checking of ID-documents and the signing of contracts.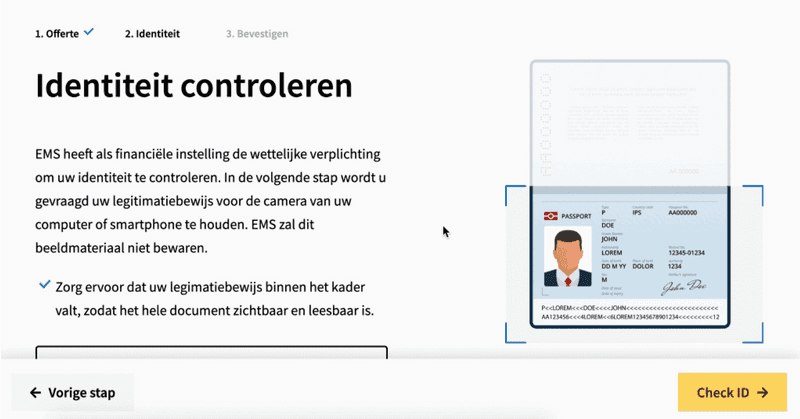 In this screen the clients' identity is verified
Behind the scenes, EMS staff use a role-based automated workflow to guide new boarding cases through the onboarding process. Note that the for the customer the process appears to be finished once they have concluded the onboarding wizard, which takes less than 10 minutes to complete.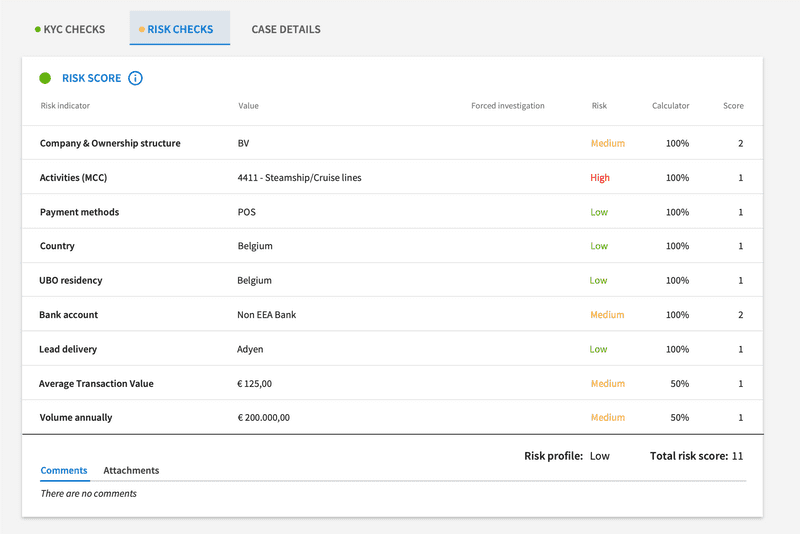 Part of the process is an automated risk scoring, above a certain threshold it needs to be reviewed by a risk officer.
In the happy flow digital information sources such as Moody's provide all necessary data about the new client and risk-assessment is low. In that case the new client is boarded completely automatically. In other cases, EMS-staff have to check why automated checks or data gathering failed, and perhaps have to supply a fresh copy of a document. The same holds true for the risk-assessment. If the automated process marks qualifies certain properties of the new merchant as high-risk, it has to be reviewed by a risk officer who may reassess the risk, board the client in spite of the higher risk or decide to refuse the client.
Lower costs
Most importantly thanks to the intelligent workflow our boarding solution provides, the process is very structured and substantially decreases employees work on a boarding case while improving data quality. Perhaps the most important advantage of the new boarding flow is the increased conversion. More merchants than before finish the flow once they started it.
If you want to discuss your own client boarding process, please contact us at gijs.ter.horst@ximedes.com