Open standards for rapidly adding commercial vehicles to public transport fleets
Recently GVB, the public transport organization for the city of Amsterdam, was asked to implement a payment system for two special bus lines to connect a business park that was rather isolated from the current main network. GVB Commercieel Vervoer has invoked these two new bus lines by contracting an external commercial bus operator.
Happy Fleet
Adding a payment system to your own fleet can already be quite a daunting task. One that happens to be exceptionally good at by the way. But in this particular GVB case, the challenge was how to integrate such a payment system in vehicles that were not part of their own fleet. The ability to provide the same level of service and information as passengers are used to in 'regular' GVB vehicles was essential. In addition to that, the drivers needed to know where they were going, passengers should be able to check-in (and out), information on the routes required to be properly presented, and so on. That was where GIVA came in.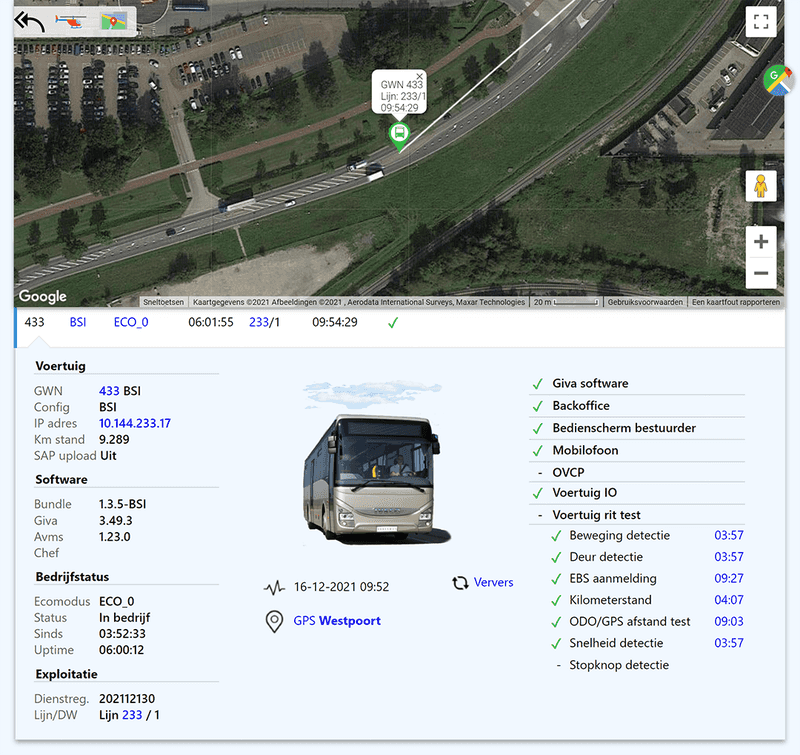 What is GIVA?
GIVA, short for Generic ICT Vehicle Architecture, is a generic hard- and software layer for public transport vehicles, based on European standards (ITxPT / VDV 301). One of the major benefits of utilizing GIVA is that it allows a public transportation organization (PTO) to quickly deploy new vehicles with a standardized software layer, linking together the various onboard systems relevant to providing the required service level. GIVA enables a PTO to create and manage functional areas of services, these functions can be combined with functions from other vendors. This allows the PTO to easily exchange or upgrade existing system components without disrupting service levels or the safety of transport operations. A good example would be a route management system (e.g. for real-time passenger information), interfacing with the automatic fare collection system, or monitoring and controlling the vehicle's engine and brakes.
GIVA offers several clear benefits over traditional approaches:
Rapid deployment of new vehicles due to standardized software architecture.
Very low cost of ownership due to flexible architecture.
All relevant transportation functions can be integrated in one platform, so there is less risk of software interfaces failing.
Adaptability to new requirements during the life cycle of a vehicle or subsystems.
Centralized data management across all GIVA systems involved for automated and efficient reporting.




The backbone to go forward
In this specific GVB case, the GIVA backbone had to be added to the new vehicles. A standard set of hardware components (IP network, Switch, Router, etc.) was installed. This hardware backbone allowed the new vehicles to communicate with the existing system, as well as provide them access to all the information and functions necessary. The GIVA software layer was deployed, and the commercial vehicles were integrated into the GVB systems, within a day of the hardware being up and running.
The commercial vehicles had their own configuration (BSI). Having such a specific vehicle type configuration enables GVB to deploy the right set of software (OTA) to the different connected onboard systems, like for example the I/O board communicating relevant information such as door signals and odometer readings.
The driver had full access to the GVB GIVA HMI from that point forward, with the relevant GVB central systems accessible via the touch screen. The validators were able to charge the correct fare and provide route information in a GVB format.
The Vehicle Monitoring Application (VMA) was sending its information to the Central Monitoring Application (CMA), giving GVB insights into the status of the specific vehicle (see picture).
All of GVB's vehicles are connected to the CMA, giving GVB very valuable insights into the status and whereabouts of all their vehicles in real-time.
GIVA can also help you to regain control and have full insight, in real-time, on the status of your full fleet of vehicles.
More information
Do you want to find out more about this project and how it can help you to add commercial vehicles to your current public transport fleet? Feel free to reach out!
John-Peter Veldkamp
Manager Mobility Solutions, Payments & Innovation
john-peter.veldkamp@ximedes.com
+31-(0)6-2125 8907